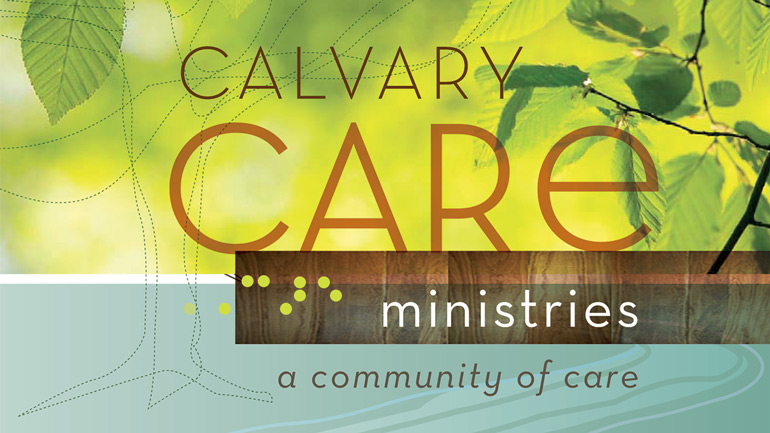 When difficult life circumstance hit or we encounter periods of dramatic life change, what we experience can make our lives confusing and even unmanageable. Calvary Care Ministries is a community of care that's purpose is to meet the emotional and physical needs of individuals, marriages, and families.
We exist to come alongside and walk this journey with you by offering biblically-based, Christ-centered resources to help you grow in your faith as you face challenging seasons in your life including:
· Calvary Life Counseling Center
· Support Groups
· Celebrate Recovery
· Stephen Ministry
· Prayer
· Walk-In Ministry/VIPS
· Local Resource List
· Financial Counseling/Resources
· Hospital, Care Facility & Homebound Visitation
· Memorial Service Assistance
Contact Us
Contact Calvary's Care Ministries at 714-550-2390 or
Calvary Life Counseling Center
The Calvary Life Counseling Center seeks to serve you by joining you in your journey of embracing God's hope and healing for your life. Our prayer is that God would free you to be the person He wants you to be so you can live the life He intends for you to live. Learn more and make an appointment
Learn More about the Counseling Center

Support Groups
A Support Group is an Open Ended, Felt Need Based group of like minded people who are all experiencing a similar life struggle. The purpose of a support group is to receive Support, Prayer, Encouragement and Accountability in a safe, confidential, Christ-centered, biblically-based environment. All of our groups have a trained facilitator equipped to lead with a passion for helping people.
Learn More About Support Groups

Celebrate Recovery
Celebrate Recovery is a Christ-centered twelve-step program and a ministry of Calvary Church of Santa Ana. We are a safe haven where people who are hurting can experience hope and healing in a Christian community. All are welcome to come and join us each Wednesday night.
Learn more about Celebrate Recovery

Stephen Ministry
Stephen Ministry aims to equip lay caregivers to provide high-quality, Christ-centered care to people who are hurting. Consider how God might use you in this life-giving ministry. Click the link below to learn more about upcoming training opportunities.
Learn more about Stephen Ministry

Prayer
We want to lift you up in prayer in your time of need. There are several ways available to submit prayer requests to our Elders, Pastors and Prayer Team. We also have many opportunities to prayed with, including at the end of each Sunday morning service.
Learn more about Calvary's Prayer Ministry

Walk in Ministry
When a sudden need arises, (whether that is food, clothing, shelter, prayer, biblical questions) and you need assistance at a moments notice our walk in ministry is available. You will be greeted by a VIPS (Volunteer In Pastoral Service) and helped and directed to meet your particular need. If you wish to speak with one of the VIPS, call 714-550-2441. Or you can meet with a VIPS by going to the Church Office at 1010 N. Tustin Avenue, Santa Ana. The VIPS, services are available Monday through Friday during office hours. An appointment is recommended.
Local Resource List
The Local Resource List includes Employment, Housing and other opportunities. Printed copies of the Resource List are available in the church office during the week. We are unable to list those who are looking for jobs.

Financial Counseling/Resources
Calvary offers Financial Coaching on how to manage your money God's way with Biblical financial principles, practical application and encouragement with accountability. Contact Pastor Ray Pertierra at 714-550-2358 or to learn about this equipping ministry.
Learn about Calvary's Financial Discipleship Ministry
Hospital, Care Facility and Homebound Visitation
We reach out, by phone and personal visits, to those of our Church family who are homebound, in a care facility or in local hospitals. Please keep us informed of those in our church and their immediate family as a need arises. Contact the church office at 714-973-4800 ext. 0 or . Or, If you would like to participate in this loving and rewarding ministry, we are taking applications now for volunteer. If you have questions or would like to participate, please call 714-550-2310.
Memorial Service Assistance
We minister to the church family, their relatives and friends in their time of bereavement. We minister to families and individuals of our community as the opportunity arises, in a loving, caring, spiritual and professional way, working with mortuary and cemetery personnel, assisting in every way possible to meet the needs of those we are called upon to serve. It is the church's desire to minister to all who are in need at the time of bereavement regardless of ability to pay, race, color or creed. All services must conform to the beliefs and practices of the church's Board of Elders and Pastoral Staff. For more information, please contact Tammy Harris at 714-392-0665 or .
To help plan funeral and memorial arrangements we have developed the following downloadable guide:
Funeral and Memorial Planning Guide (PDF)