How are you growing in this season?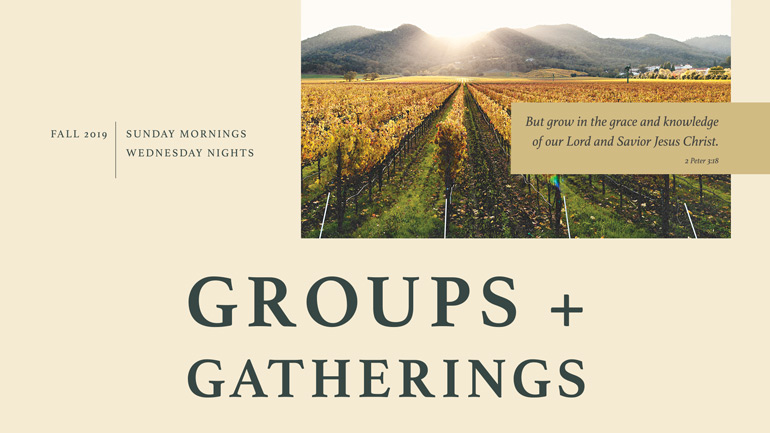 Dear Calvary Family,

For over 60 years, our front yard was home to a giant tree that announced each season with changing leaves. But last fall this beautiful old tree came crashing down when the stress of the Santa Ana winds filled its branches. From the outside, this tree looked strong and healthy. However, on the inside it was being weakened by disease and parasites.

Have you ever felt like that tree? On the outside, you can appear strong and capable. But when the stress of the world comes through difficult relationships, questions about faith, parenting through hard seasons, financial struggles, feelings of anxiety and depression, and more, it can be difficult to remain upright.

The Bible encourages Jesus-followers to be planted, rooted, growing, maturing, and able to withstand the pressures of the world. At Calvary, we believe this happens best in community.

This fall we are offering a variety of groups and gatherings to begin cultivating healthy relationships while growing in faith with like-minded people. I invite you to find a group or gathering you might want to plant yourself in this season and then commit to dig deep into God's Word and in relationships.

As we grow together we are better together...So, join us! Learn more about ways you can get involved on Sundays mornings or throughout the week, along with the various topics of learning, at calvarylife.org/grow

We also hope to see you all this Sunday at 9:30am in the Worship Center as we continue our series through the Book of Jonah with a message from from Pastor David Mitchell and a moment for Teacher Dedications to bless all those investing their lives in educating the next generation.

Shannon Reese
Adult Team Lead & Leadership Development Pastor
Calvary Weekly Email
Sign up to receive the weekly Calvary email of the Pastor's Blog to get biblical insights and ministry updates on life at Calvary as we follow Jesus together.