7 out of 10 families do not have a current will or living trust. Estate Planning and good stewardship go together. Finish well as a good steward to protect your family from unnecessary taxes, probate costs, ensure your desires are met and help to benefit the cause for Christ.
RESOURCES:
- Generous Living: Financial Discipleship Ministry
For any questions regarding leaving a legacy, contact Calvary's Financial Discipleship Pastor Ray Pertierra at 714-550-2358.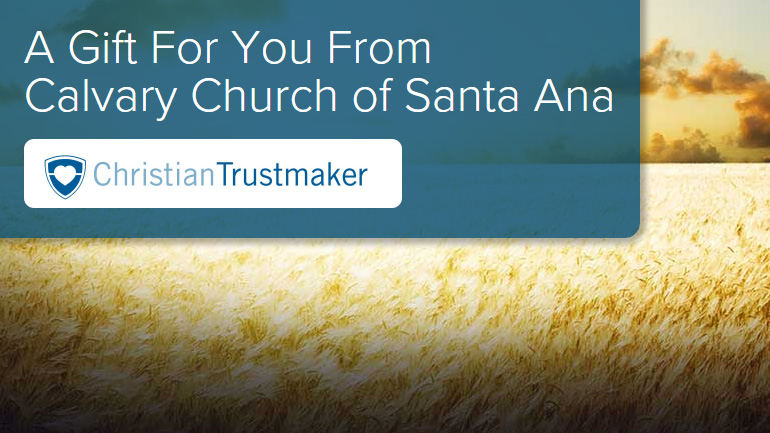 Calvary Church, in partnership with Christian Trustmaker, wants to help you with this vitally important area of stewardship. Christian Trustmaker is designed by a team of estate planning attorneys, ministry leaders, and technology experts to provide an easy way to prepare quality estate planning documents that also reflects your love for family and God.
With insights from God's Word, Christian Trustmaker will guide you through an easy step-by-step estate design process. Registration with Calvary Church of Santa Ana's referral link will give you the ability to prepare your estate planning legal documents at 20% off an already affordable price.
PLANNED GIVING PARTNERS
Calvary Church and Calvary Christian School have partnered with Biola University and The Orchard Foundation to provide educational programs to our congregation and families around the topics of planned giving. The following offerings are available through our current Generous Living Workshops and Seminars.
Biola University
Biola University's Planned Giving Department and Calvary Church/Calvary Christian School have partnered together to offer Calvary families no cost access to qualified planned giving advisors. The goal is to allow our people to be introduced and take advantage of giving options available that can meet family needs, advance God's Kingdom and increase tax efficiencies.
Orchard Alliance
Orchard Alliance is a fiduciary ministry offering a wide range of gift planning tools including Charitable Gift Annuities to individuals, families, and ministry organizations who desire to make the most of their God-given resources to meet personal, family, and charitable objectives.