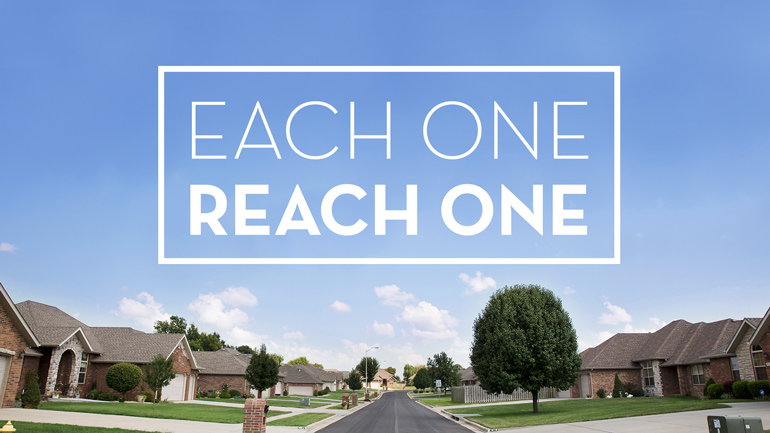 Dear Calvary Church Family,
I want to open our hearts to God's leading as we are entering into the holidays. How has God been prompting you to respond to this inspiring call to reach across the street and around the world? We know that God is calling our church so that Each One would Reach One with the good news of Jesus by Easter of 2020.
What would it take to for you to see one person that you know and love be transformed by the saving grace of Jesus this year? What does that picture look like?
How do we start painting that picture?
1. We pray! This is all about the Holy Spirit's power and presence in doing the work of this vision. We pray the CHOW Prayer of evangelism. We ask God to give us Courage, Heart, Opportunities and Words to Say. We pray that prayer everyday at 10:02am inspired by Luke 10:2 where we learn that the harvest is ripe but the workers are few. So we ask the Lord of the Harvest to send workers for the harvest, including ourselves. You can pick up a Missionary Prayer Guide this Sunday in the Lobby and commit to lift them up as well.
2. We give! Our giving to missions supports our missionary partners around the world and helps us reach out locally as well. You could possibly have your greatest kingdom impact by being incredibly successful at your job here at home and giving to support missionaries around the world. You can make a donation online today at calvarylife.org/give
3. We go! We go across the street or across the office or across the classroom or across the field to invest in the lives of the people with whom we live, work and play. Who will you invite this year and continue to invest in over the next year as we pursue our vision for Each One to Reach One.
You also might be called by God to go across the world. Email Matt Doan at to start a conversation about what it looks like to start the process of being a missionary from Calvary Church.
Here's what I know for sure! God is calling you to something! He's calling you to share your faith with someone! He's calling you to make an impact on this world for His Kingdom. He's calling every single one of us. No one is left out from this calling. This is a family business. We truly are better together.
How is God calling you to reach today?
May the Lord bless you and keep you,
Eric