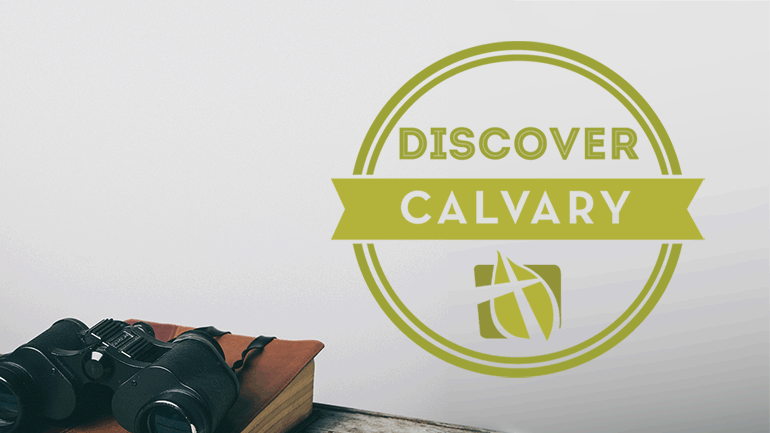 Thank you for your interest in wanting to learn more about Calvary Church. We're a Bible-teaching church in Santa Ana, California centered around the life-changing message of Jesus, making a difference in Orange County and around the world since 1931.
We are an inter-generational and inter-cultural community that truly believes life is BETTER TOGETHER because of Jesus. In this section you can learn about:
Our Vision
Who We Will Be On The Road Ahead
Calvary seeks to be a church family that is better together, being changed by the Gospel to love like Jesus across all cultures and generations.
Discover More About Our Vision
Our Purpose
What We Do Together Along The Way
Calvary Church is a community where we CONNECT with God and others to GROW in our faith so we REACH Orange County and the world for Jesus Christ.


Our Story
Calvary Church began to take shape in 1930 as a small Bible Study in Orange County with a group of Christians who were seeking a church that would remain true to the Bible. This study eventually grew to 207 charter members and in the fall of 1931, they began a new church of their own in Santa Ana.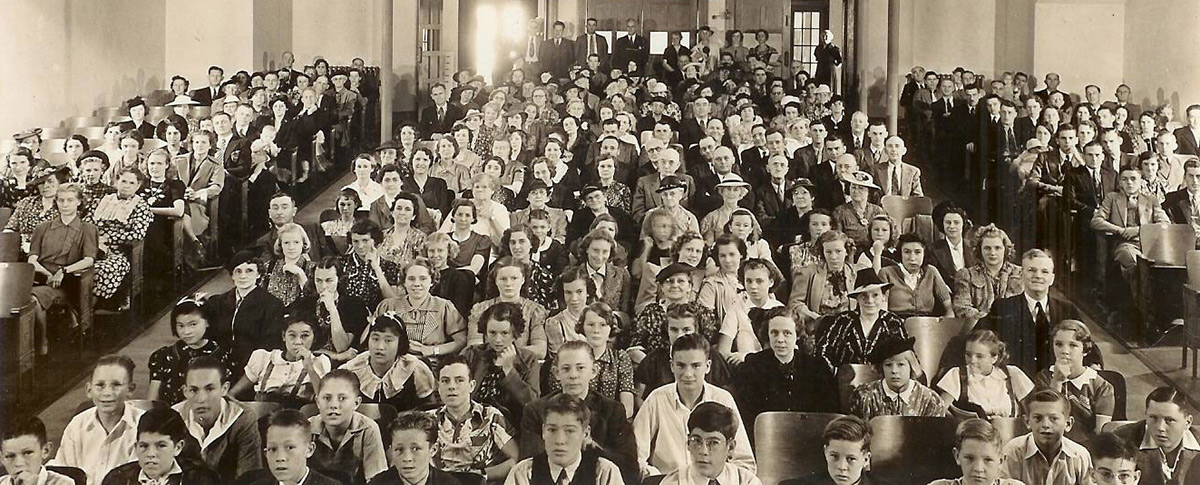 Calvary in 1938 at the Ebell Club in Downtown Santa Ana 

Taking one step of faith after another, Calvary continued to grow over the years. In 1957, we moved from downtown out to a field of orange groves on the edge of the city-our current location at 1010 N Tustin Avenue.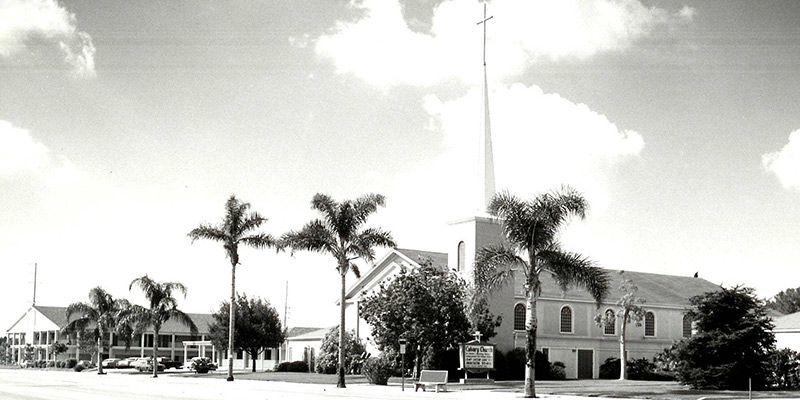 Calvary's campus in 1978 before the C Building & Worship Center were built

For more than eight decades, Calvary has touched many people's lives with the love and grace of Jesus Christ. From those original members to the thousands that call Calvary home today, God continues to build our family and accomplish His purposes both here in Orange County and around the world.
What part will you play in the story God is authoring through Calvary Church?

Installation Service of Eric Wakeling as Senior Pastor in 2018 - View Full Size


Read More about Calvary's History



Our Beliefs
[1] We believe the sixty six books of the Bible, consisting of all the books of the Old and New Testaments, are the written Word of God. They are a supernatural revelation from God Himself. These books are inspired, inerrant and infallible, without error of any kind in every word and concept. They are the final authority on all matters they address, and all truth necessary for our salvation and spiritual life. (Psalm 19:7-11; John 14:26; John 16:12-15; I Corinthians 2:12-16; II Timothy 3:16-17; II Peter 1:16-21; I John 2:27)
[2] We believe in the Trinity. There is only one God and in the Trinity there are three eternal and coequal persons: God the Father; God the Son (Jesus Christ); and God the Holy Spirit. (Deuteronomy 6:4; Isaiah 46:9; Matthew 3:16-17; Matthew 28:19; II Corinthians 13:14; I John 5:1-8)
[3] We believe Jesus Christ is one Person with two complete natures, divine and human. He is true God and true man. Jesus is God incarnate, being born of a virgin and is completely sinless. He eternally exists as the Logos, God the Son, the second person of the Trinity. Jesus has all the attributes, characteristics, and works of God. And as such, He should be worshiped as God by men and angels.(Isaiah 7:14; John 1:1-14; John 10:30-33; Colossians 1:16-19; Colossians 2:9)

[4] We believe that all people are born with a sin nature and commit sins by falling short of God's holiness and violating His commands. (Romans 3:23; Romans 6:23; I John 3:4)
[5] We believe that Jesus Christ died for all people, offering His life as a substitute to atone for all sins. The salvation of any person is the work of God alone, by faith alone in Christ. All people who trust in Him as their only means of forgiveness for their sins will inherit eternal life with God. (John 3:1-18; John 6:44-69; John 14:1-6; John 17:3; Hebrews 2:9; Titus 3:47)
[6] We believe in the physical resurrection of the Lord Jesus Christ and that He ascended bodily into heaven. He is now at the right hand of God as mediator, priest, and advocate for each believer. (John 20; Acts 1:9-11; Acts 3:12-26; I Corinthians 15:12-28; Hebrews 7:25; Hebrews 9:24)
[7] We believe that Heaven is a real place of eternal blessedness in the presence of God and that Hell is a real place of eternal suffering and separation from God. (Matthew 25:46; II Corinthians 5:1-10; Revelation 20; Revelation 21; Revelation 22)
[8] We believe the Holy Spirit indwells every Christian and spiritually baptizes them, placing them into the body of Christ, His church, when they are saved. There is only one baptism but many fillings. Christians are commanded to be filled with the Holy Spirit for power to live a holy and obedient life for Jesus Christ. (Acts 2:38; Acts 13:52; Romans 8:14-27; Galatians 5:22-25; Ephesians 5:18)
[9] We believe in the Great Commission in our own community and around the world. Jesus commands all believers to go evangelize and make disciples of all nations. We are to baptize and teach each believer all that Jesus commands in His Word. (Matthew 28:19-20; Luke 24:47; Acts 1:8; II Timothy 3:16-17)
[10] We believe that all followers of the Lord Jesus are created in Him to glorify God by living holy lives and serving others in love with good works. These good works are evidence of a believer's salvation and not a means to gain salvation or favor with God. (I Corinthians 13; Ephesians 2:8-10; Ephesians 4:1-32; Titus 2:15, 14; Titus 3:1-11; James 2:17)
[11] We believe Satan and his demons are real, personal beings who are fallen angels in opposition to Jesus Christ and His church. (Isaiah 14:12-17; Matthew 4:2-11; John 8:44; Revelation 12:9-10)
[12] We believe in the personal, premillenial second coming of our Lord Jesus Christ. He will come for His saints and then rule with them for a thousand years on this earth. He will then establish a new heaven and new earth for all believers to live eternally in the glory of God. (I Corinthians 15:50-55; I Thessalonians 4:13-18; Revelation 19:19-20; Revelation 20; Revelation 21; Revelation 22)
[13] We believe that biblical marriage consists only of the union of one biological man and one biological woman, and that biblical marriage is the only legitimate and acceptable context for a sexual relationship. (Genesis 2:24; Romans 1:26-27)



Come Learn More Through Discover Classes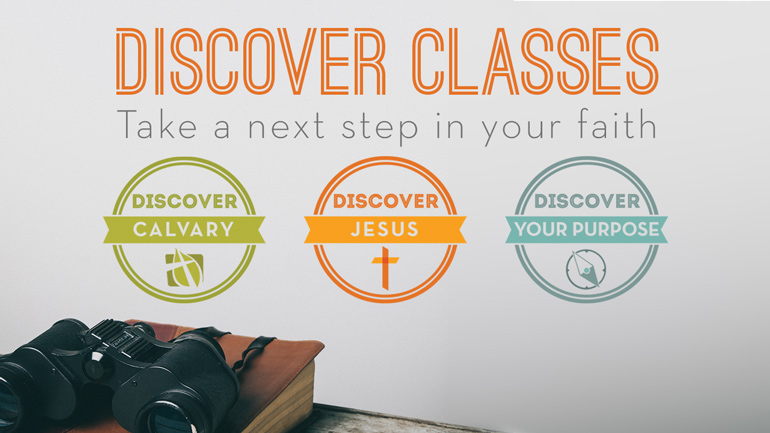 Discover Classes are interactive experiences designed to help you learn how to live out the Christian life and the purpose of Calvary Church: to Connect, Grow and Reach.
See Schedule for Upcoming Discover Classes